A UK design consultancy has teamed up with a giant Chinese manufacturer to produce what they say is the world's most affordable solar lamp.
Manchester-based firm Inventid designed the SM100 solar light, which retails for $5 (£3.85) in African countries.
It was developed in collaboration with China's Yingli and charity Solar Aid.
The hand-sized lamp runs for eight hours when fully charged. As well as a stand, it has strap slots so it can be used as a head torch or tied to a bike.
Kerosene burning lamps remain the sole source of lighting for some 600 million people living without electricity in Africa and in other third world countries, but they are expensive to run and there is the constant danger of potential fires.
Read the rest of the story from the BBC HERE
Here is what it looks like in the hand of a little African Girl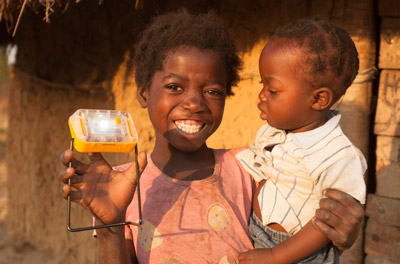 ---
I don't know about Africa and the many other places that have to use Kerosene lamps to provide light, but I do know that this light will sell in many other developed countries too.
What do you good folks think of this latest invention ?